MindCandy - delight your senses!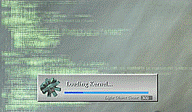 Let us take you on a journey of colorful visual expressions, eclectic music and animated objects from a different world - the world of
computer demos
. Originating from the european underground, those pieces of multimedia art are created by teams of talented programmers, graphic-artists and musicians to
DEMO
nstrate the power of your average PC or home computer. A good demo is a fusion of graphics, sound and story and makes the visitor marvel, laugh, enjoy, reflect and in best case visit the next
demoparty
and
join the demoscene
.
The Problem
Many demos only run perfect on the combination of hardware and operating system they were originally developed for. Especially the demos of MindCandy Volume 1 and 2 either don't run on a current computer at all or they show damaged graphic effects or parts of the demo are running too fast/slow or even crash. The latter doesn't apply to the Windows-PC demos of MindCandy Volume 3 to this extent at the moment(!), but remastering and (in parts) rewriting the source material provides for a mind-blowing "better-than-realtime" visual quality.
The Solution
MindCandy brings the greatest computer demos of the past 20 years to any computer and TV screen: In the ultra-compatible and crash-safe form of a Video-DVD (MindCandy 3: DVD + Blu-ray) incl. numerous extras, such as audio-commentary, interviews and first-hand background stories. The demos were captured using different hardware variants (in case of the classic demos a high end video converter) and customized software, and then scene by scene optimized and stitched for best possible framerate performance and audio/video quality. In order to achieve this, the single parts of each demo were tested on different hardware variations and the best result was selected. In case of the latest MindCandy Volume 3 some of the demos have been rewritten by the demo authors just for MindCandy, in order to improve the visual quality even more and to achieve perfectly smooth 60 frames per second in 1280x720 high definition.
MindCandy is available in three flavours: